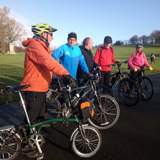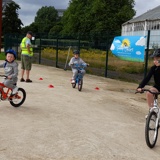 We can help you build your confidence on the bike, either with bike skills sessions, cycling practice on the road, or by helping you to plan your route from A to B and even to C and D if you need it – it's all possible when you know where the cycle paths are.
We have bike skills sessions covering gears, signalling, lifting a hand off, slowing, moving onto the road, junctions and group cycling. All of these skills need to be practiced regularly to enable people of all ages to build their confidence and to keep their confidence on the bike. Bike skills sessions leads to more knowledgeable and confident cyclists. 
Check the 'What's On' page to see when the current sessions are running or drop us an email.
Please contact us if you would like to arrange or book a group of people in for a bike skills session
Please get in touch if you have questions regarding our bike skills sessions.